This week, Oliver has been making homemade pizza. He also went on a walk along Roker pier and has made a start on his home learning pack. He especially loved the dinodaur themed work which inspired him to complete a giant dinosaur puzzle. Great stuff Oliver
---
Oliver in reception has been enjoying the sunny weather last week with trips to Souter Lighthouse and Derwent Walk Country Park in Gateshead. He also did some excellent maths work! Super job Oliver!
Charlotte has been taking advantage of the weather, beach walks on the evenings with the dogs and gardening during the day. She has helped choose the flowers for our plant section. She has got up every morning and watered the plans making sure they're healthy. Charlotte has been learning how to care for the plants. She has also helped keep Bella the puppy off the plants
Matthew and Hallies plant pots they painted and planted some lavender
Oliver has been very busy over half term and is nearly at 30k for Mr G's challenge! He has also been rock pooling and found some sea creatures including a crab and a bristle worm! Looks like lots of fun Oliver
---
Michael in reception sent Miss Neilson some photos of what he's been getting up to at home. Looks like lots of fun Michael!
---
Oliver has been working through the tasks Miss Neilson sent this week. We've been reading Supertato. He's drawn a lovely wanted poster for the 'Evil Pea' and made his own supertato and evil pea and a house for Supertato too. He's also completed 10k for Mr Gilmore's challenge. Super work Oliver
---
Layla in reception has been learning all about reptiles. How they lay eggs and don't have skin like ours; or fur like many of our pets. We looked through Layla's books for reptiles and she found the one she liked the best to show you. A crocodile. Layla painted egg boxes and made a fierce-looking crocodile with pointy sharp teeth. Amazing work Layla
---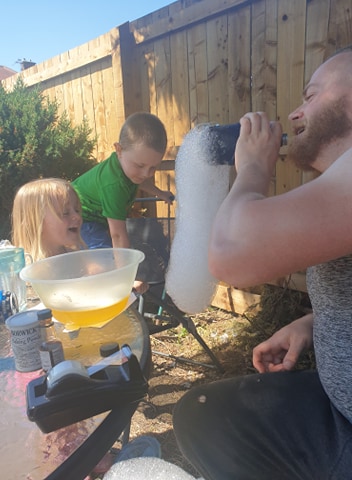 Matthew and Hallie have been doing the sock bubble experiment.
---
Millie and Danny started their 10k challenge today with nana, this is some of the photos we took
---
Last spring when Nancy Brown was in nursery, Mrs Campbell set her a task of looking out for certain birds and allocated us blue tits to look out for. You can imagine our excitement when these two started nesting and now what looks like feeding their chicks in our recently built bird box!!! Its certainly kept us entertained whilst being away from school and friends.
---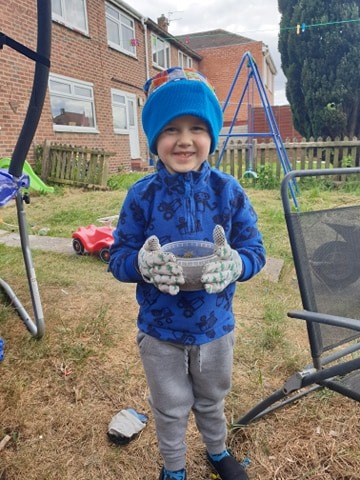 Matthew's found a worm that he's been making a little home for.
---
Today Millie and Danny have helped grandad plant some peas
---
Oliver in reception sent Miss Neilson an email with some pictures of his home learning activities.
Lots of exciting science activities there – great work Oliver!
Yesterday he built a rocket and today with help from Dad they launched it.
He's also been making some slime too.
Next we are going to build a telescope and make our own solar system. Oliver's been practicing his addition on Topmarks and drawing lots of lovely pictures.
---
Millie and Danny have been on a long walk today. Millie made our lunch, which was spaghetti in hot dogs and tomato pasta sauce.
It looks lovely Millie!
---
'Charlotte asked for her hair cut and wow she done amazing in sitting still for me.'I think that's the best home hair cut I've seen! Looking beautiful Charlotte
---
Zayn Cook practicing his letters
---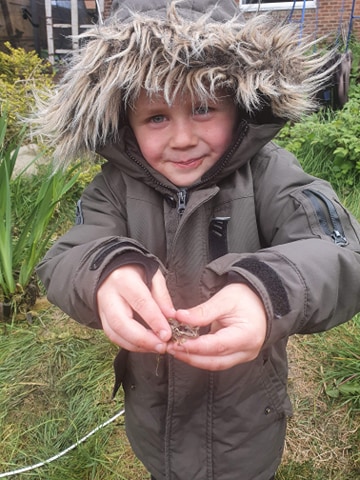 Matthew in Reception has been helping his dad in the pond and holding frogs!
Awww how lovely! I think he could be the next David Attenborough! – Miss Neilson
---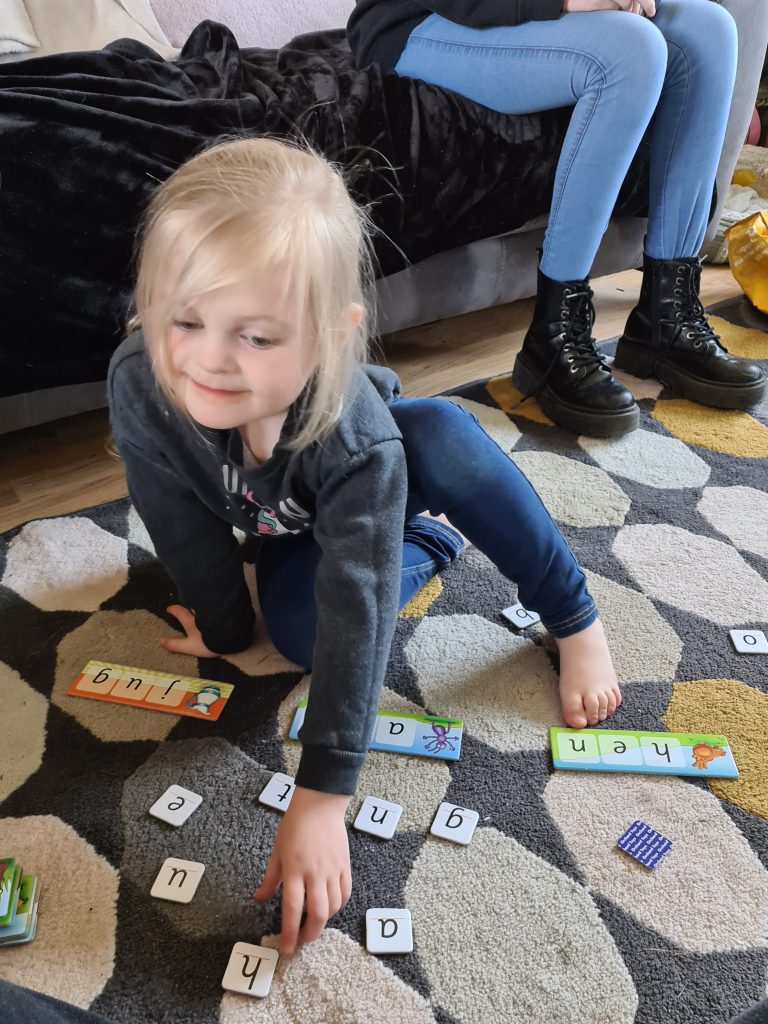 Charlotte in reception has been working hard at home with her phonics. Well done Charlotte!
---
Oliver in reception sent Miss Neilson these photos, he's been keeping very busy in lockdown playing maths games online, making up his own superhero and visiting Marsden beach. Keep it up Oliver!
---
Here are some photos of what Zac (Y4) and Zayn (Rec) have been up to; lots of walks, cake making, den making and some school work. Good to see you are keeping busy boys!
---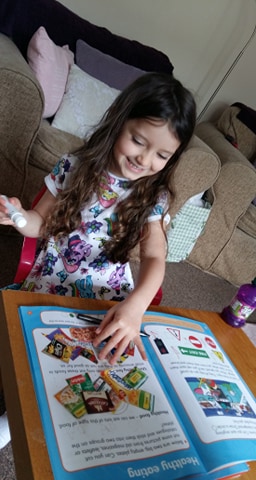 Layla in reception is learning about healthy foods. Sticking the foods she thinks are healthy on one plate and the foods that are not so healthy on the other. She's doing a great job working through her books.
---
Following on from her trip to the beach to see the sunrise yesterday, I challenged Nancy to draw a picture of what she saw and write a sentence to accompany it. Today I recieved this email from Nancy's Dad showing me their work. I'm well impressed Nancy, keep up the fantastic work! Miss Neilson
"Today we drew pictures of yesterday's early morning trip to the beach and wrote a sentence to go with them on our whiteboard.Miss everyone at lord blyton
"
---
Nancy has been busy making more rainbows and getting up early to watch the sunrise. She is missing everyone and loved the new school video.
A lovely update from Oliver in Reception
keep it up Oliver!
Oliver's been bug hunting in the garden and found a centipede, a slug, a wasp, a few catapillars and lots of worms! Oliver's sunflowers have grown so much we've had to repot them and move them into the garden! He's been watering them and checking to see how they've grown every day.
---
Nancy in Reception wrote this fabulous letter to Miss Neilson and Miss Blakie to tell them all about her new bike. What amazing writing Nancy, well done!
---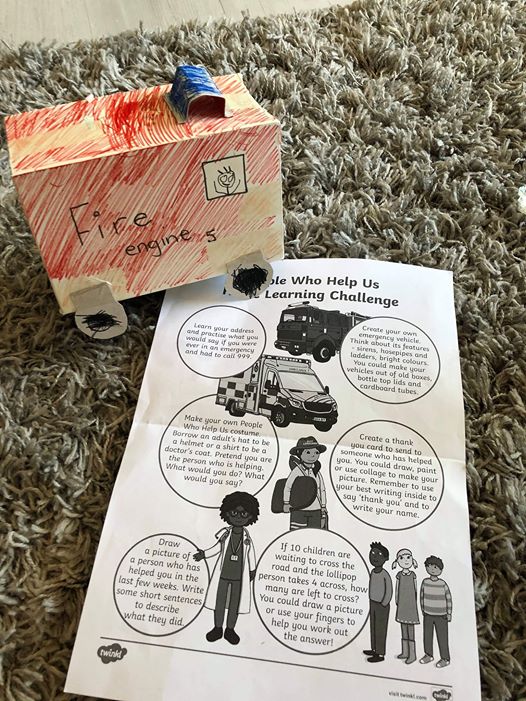 Amari in Reception has built his own fire engine as part of the 'people who help us' topic. Well done Amari!
---
Millie and Danny Hogg decorated Nana Rory's fence with chalk
---
Darcey from Reception sent Miss Neilson this video:
Today we were met by a bumble bee in our garden who looked exhausted! So we gave her some sugary water as per Google's instructions and picked some flowers to help her collect pollen! Look at her tongue go!
---
---
Sean has had a very busy day including getting his prize for being one of our Easter Egg competition winners. Well done Sean!
---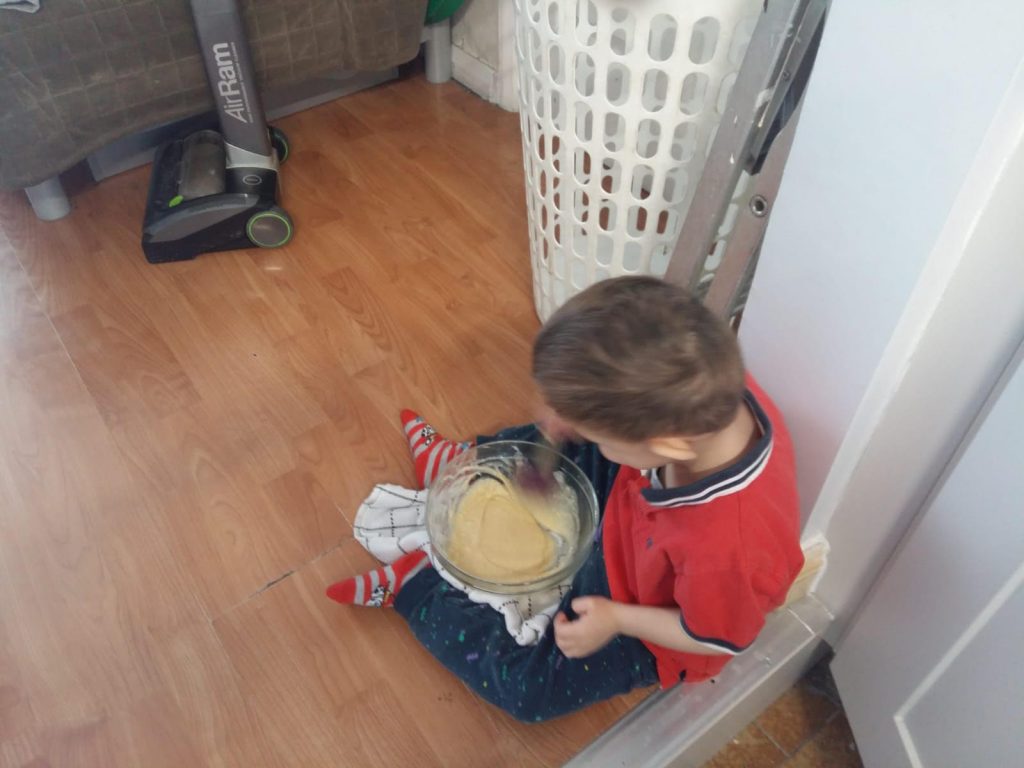 Jacob Coxon, Reception, Making cakes while eating most of the cake mix.
Nancy Brown from reception baking some red velvet cakes this morning …. along with the compulsory taste test !!!
---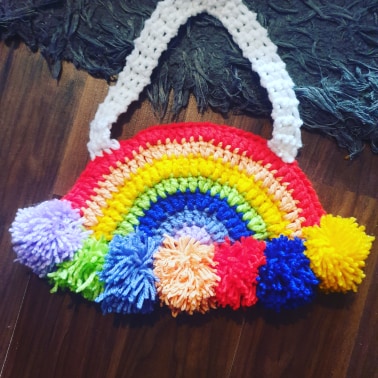 Matthew Peel and his Mum have been making this lovely rainbow