Boys
School royal blue sweatshirt
School yellow polo shirt
Black trousers or shorts
Girls
School royal blue sweatshirt or cardigan
School yellow polo shirt
Black skirt/pinafore/trousers
Black tights
Blue/yellow gingham dresses may be worn in the summer term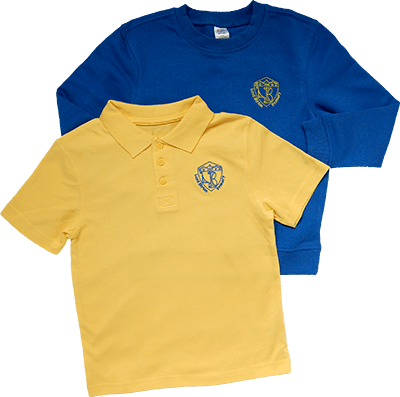 Hair
Neat short haircut for boys
Girls hair should be kept tied back
Footwear
Black school shoes with flat heel or plain black trainers.
If it is a wet or cold day and your child needs to wear wellies or warm boots to travel to school, please make sure they have normal school shoes or plimsolls to change into.
Outdoors is an extension of the indoor classroom and will be accessed on a daily basis by the children in all weathers. Please ensure that children have a pair of named wellies. It would be beneficial if you could leave them at school as we cannot predict the weather. However, please feel free to take them home when they are needed.
Jewellery
On health and safety grounds we encourage parents to ensure that children do not wear jewellery to nursery.
Easy to fasten clothes – Please be sure that your child is dressed in clothes that allow him or her to be independent both indoors and outdoors. We want the children to be as independent as possible so please think carefully about buckles, buttons and laces.
Where to buy
Our school uniform can be purchased online from My Clothing using the following link:
https://myclothing.com/lord-blyton-primary-school/7072.school
All clothing and footwear including coats and hats should be clearly labelled with your child's name